Holy Spirit Novena
The Holy Spirit is the unseen moving force of God in our world. That same Spirit who inspired the prophets of the Old Testament and the evangelists of the New Testament, continues to be with us today. Spiritans are happy to share with you this Novena to the Holy Spirit. Pray with us.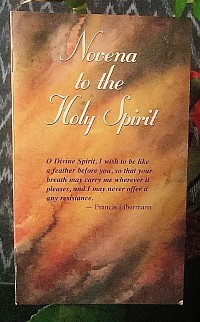 If you would like to order the TransCanada Novena to the Holy Spirit in a booklet form, please contact us:
Spiritans
34 Collinsgrove Road
Scarborough, ON
Canada
M1E 3S4
416-691-9319
Cost of each booklet (postage not included), is $2.50 Canadian. There is no discount for bulk orders since we are providing this service at cost. We accept most credit cards as well as cheques.